Authors: 
Adaptation: D. Jamborova Lemay (Inalco, FR)
Authors of original series FR-NL and NL-SK:
Universiteit Hasselt - Centre de Linguistique Appliquée: (A. Gelan, W. Clijsters)
Univerzita Komenského v Bratislave: Mgr. Eleonora Krčméryová, PhD and Lic. Hanna
Gevaert, Mgr. Marketa Štefková PhD., Prof. PhDr. Jana Rakšányiová, CSc.
in the series LinguaCom - Talen voor beginners (coordination: A. Gelan, W.
Clijsters, Hasselt University, BE)
"Slovaque pour débutants (French - Slovak)" is an online e-learning module for tablet, PC, Mac and smartphone *, easy to access and available via our servers 24/7.
The e-module, which is part of the series LinguaCom, is suitable for complete self-study or semi-autonomous learning (face-to- face or e-coaching).
In this e-learning module, you will learn how to communicate in day-to-day Slovak at level A1 (absolute beginner) of the Common European Framework of Reference for Languages (CEFR).
Along with the language, you will learn how the Slovaks live and communicate and how you yourself can easily make contacts in Slovakia.
A systematic structure by theme and a well thought-through didactic progression ensure that you will quickly be able to make yourself understood in Slovak.
Thanks to the many exercises with authentic audio clips in a natural speaking rhythm, you will be able to understand Slovak speakers more easily, the ultimate starting point for good communication.
The many dialogues, in which you yourself take on an active role, allow you to have short conversations, record them and then compare these with those of native speakers.
Every exercise provides feedback on errors and links to more information in clear reference pages.
A simple click on the text will give you an explanation of the word, or you can consult the comprehensive built-in dictionary.
The contrastive approach is unique: not only all statements and explanations are given in French, but you will also learn how to avoid the typical and persistent interference errors. These are mistakes that are usually made due to the influence of French or English.

Additionally, you can choose your learning path: either by following the progression of the sophisticated didactic structure, or by joining the module laterally according to your personal needs. Furthermore, you can choose to start from the exercises, or the theory – both are linked by a single mouse click.
In short, this is not a language course in the classic sense, it is not a traditional language course with standard written exercises or lessons. It is a modern, challenging, user-friendly, and above all effective online language method!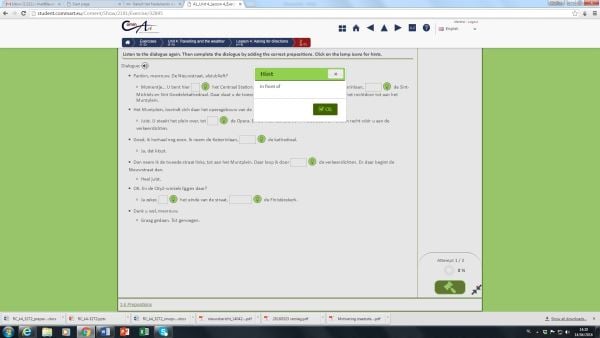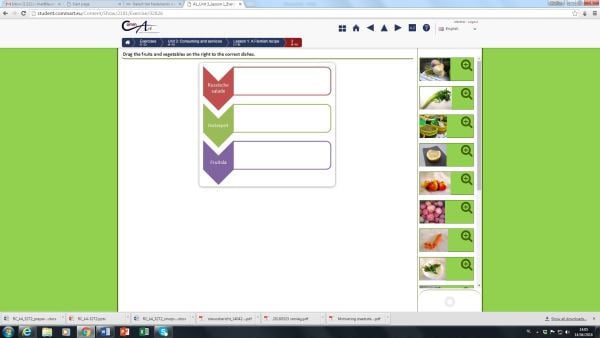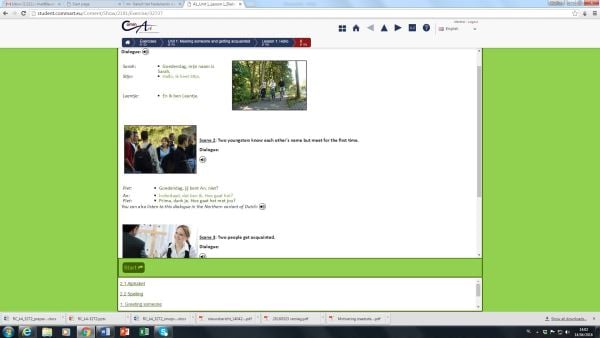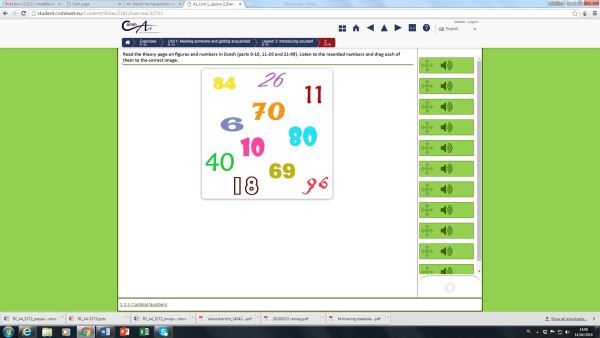 In a nutshell:
• a fresh, modern, multimedia learning environment
• a combination of learning language and culture
• a wide variety of practice exercises in which the various skills are taught, including numerous sound files (recorded with native speakers), illustrations and photographs
• progressive didactic progression, with the ultimate goal of being able to communicate correctly in authentic, real-life situations at level A1 of the CEFR
• great flexibility: the learner can determine their own study path by choosing the communicative situations they need most. They can choose to focus mainly on the exercises or start by studying the theory
• the course is all-in-one, i.e. the basic course, the solutions to all the exercises, feedback, an educational dictionary, functional grammar, cultural background, thematic dictionaries, many audio clips ...
This online module was developed in EMCG2.0©, the surprising and user-friendly authoring software for web browser environments.
* though not didactically recommended due to the small screen size